Handbells
Handbell  Ensemble is on a brief hiatus until the beginning of April. Wednesday night rehearsals will resume on Wednesday, April 3, 2019. No experience ringing handbells is needed to participate. All are invited to join! Contact the church for additional information.
MacPherson's Handbell Choir meets in the handbell room, located right next to the choir room. New ringers are always welcomed! You need not be an expert musician to ring with us, and our choir is comprised of ringers of all abilities. The Handbell Choir performs in worship several times throughout the year, praising God with traditional hymns, special handbell anthems, and classic musical selections.
Psalm 150
      1 Praise the LORD!
            Praise God in His sanctuary;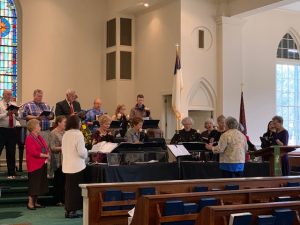 Praise Him in His mighty expanse.
      2 Praise Him for His mighty deeds;
            Praise Him according to His excellent greatness.
      3 Praise Him with trumpet sound;
            Praise Him with harp and lyre.
4 Praise Him with timbrel and dancing;
            Praise Him with stringed instruments and pipe.
      5 Praise Him with loud cymbals;
            Praise Him with resounding cymbals.
      6 Let everything that has breath praise the LORD.
            Praise the LORD!