Sunday School for All Ages 10:00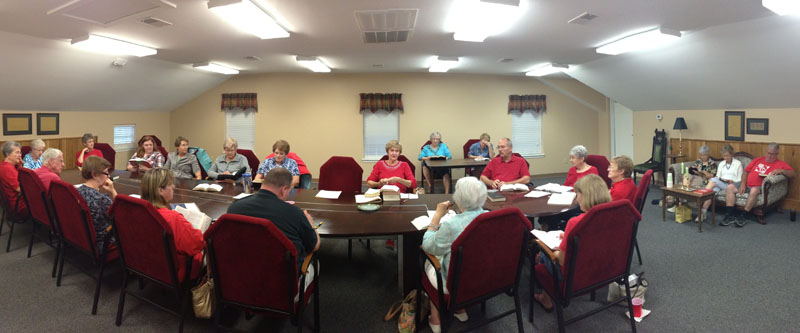 There are five Sunday School options for adults and classes for children of all ages, K-12.  Join us first for a light breakfast with announcements in the fellowship hall every Sunday morning from 9:30–10:00.  Classes begin at 10 and end by 10:45. Studying and learning with others is a great way for you to grow in your faith and to help others grow, too.  Please know that you are welcome!
Here are the class options through January 2017:
 Christian Living Class (10:00 am/Room 224): NT Wright for Everyone Bible Series: 1st and 2nd Thessalonians.

"Radical" Group (10:00 am/Room 208): Based on David Platt's "Radical," which challenges Christians to consider how they have manipulated the gospel to fit our cultural preferences. Platt shows what Jesus actually said about being His disciple–then invites you to believe and obey what you have heard.
Living Without Enemies (10:00 am/Room 228): Based on Samuel Wells' and Marcia Owen's "Living Without Enemies," which looks at truly loving others as God loves. This means living without enemies and taking small steps toward reconciliation. In a world of senseless violence and pain, "Without Enemies" invites Christians to engage in radical acceptance in this dangerous world, coming face-to-face with a God who loves boundlessly and has no enemies.
Covenant/Joy Class(10:00 am/Room 233): David C. Cook curriculum, "The Sovereignty of God"
Korean Bible Study (10:00 am/Room 220): The Present Word curriculum (Korean version)
Children's Sunday School (10:00 am/Various Rooms)
Pre-K (3- & 4-year-olds)/Room 122
Kindergarten-2nd Grade/Room 221
Grades 3-5/Room 227
Grades 6-12 (Confirmation & Youth Class)/Room 207