Church Staff
James  Randall
Pastor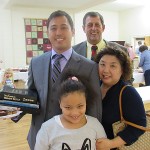 Pastor Jim was born in Cincinnati, Ohio. After graduating from Woodward High School in Cincinnati, he joined the United States Army. Pastor Jim retired from the Army after serving twenty years. After retiring from the Army, Pastor Jim received a BA in religion from Methodist University in Fayetteville, NC; the Master of Divinity from Union Presbyterian Seminary; and the Doctor of Ministry degree from Austin Presbyterian Theological Seminary.
Pastor Jim's areas of theological interest are evangelism and mission, small-church revitalization, as well as studies in the problem of evil and its relationship to salvation through Jesus. Pastor Jim's church experience spans 32 years both in lay and ordained service.
Pastor Jim and his wife Myung Hee have been married for 36 years and have four children: Cristy, John, William (pictured), and Jada (pictured).
Beth Walters
Director of Music Ministry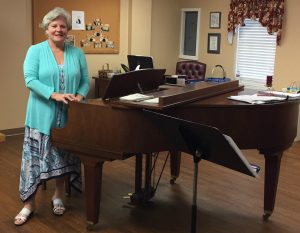 Beth Walters was born and raised in Raeford, graduating from Hoke County High School. She later graduated from Mars Hill College with a Bachelor's of Music Degree in Music Education. She recently retired after a 26-year teaching career in Hoke County, Fayetteville City, and Cumberland County. She is married to Stuart, who retired from First Citizens and now works at CEED Non-profit Center in downtown Fayetteville. Beth and her husband are members of Snyder Memorial Baptist Church. Her two daughters, Susan and Sarah, both live in the DC area—as do her two beloved grandchildren, David Robert and Iris.
Rene Bahrenfuss
Church Secretary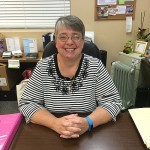 Like so many in town, Rene settled in Fayetteville courtesy of the military, specifically the Air Force. Her family moved here just before 9-11 from an assignment in Tampa. Previous duty stations included Colorado Springs and Washington, D.C. Her husband, Brian, is now proudly retired from the military, and their son, Benjamin, graduated from ECU in May. Mischievous dogs Cookie and Kenda round out the Bahrenfuss family. Rene is a graduate of Ohio Wesleyan University with a B.A. in History and Journalism. She is one class shy of an M.A. in Interdisciplinary Studies at Western New Mexico University. Rene is active in her home church, Camp Ground United Methodist, leading their Council on Ministries, teaching Sunday School, and leading other Bible studies. Rene also has been a student and leader in Bible Study Fellowship for more than a decade. Rene has served the staff and members of MacPherson since June 2013.
Julie Bekkering
Organist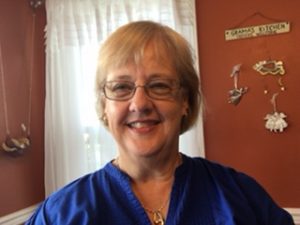 Julie was born in Fremont, Michigan, home of Gerber baby food, and raised in western Michigan. She has two awesome children. Her daughter Sue is married to Fred Ferreyra with a son Shawn and a daughter Heather. They live near Julie in Hope Mills, and both are police officers. Son Rick is married to Kerri with a son, Nick. They live in Grand Rapids, Michigan.
Julie and her father moved to North Carolina in 2004 to be near Sue and Fred and establish meaningful relationships with Shawn and Heather. Her mother passed in 2002, so it was just her, her father, and their three dogs. They joined MacPherson that year and have been involved ever since. She has played piano for the early service and has been the church organist for the past two years, and she just joined the Music & Worship Team. She served on the Session for six years and was a member of the LRO team. She is a member of PW Circle 4 and served one year as PW Moderator. She also has cooked for Wednesday Fellowship Supper. Julie works full-time at Union Corrugating Company, a metal roofing wholesaler in Fayetteville. She hopes to retire in a few years and spend more time with her family as well as volunteer at church and FAPS (Fayetteville Animal Protection Society).
Amanda Schafer
Accompanist
Amanda York Schafer has been spreading the joy of music through teaching for seventeen years. She has been on the piano faculty at Campbell University since 2004. Amanda also teaches privately in Fayetteville. She is in demand as a master class clinician and as an adjudicator for competitions. She is a board member of the Fayetteville Piano Teachers Association. Amanda received her Master's Degree in Music Performance from Ball State University in Indiana. She was awarded the W. Trent Ragland Fund for International Study in Travel in 1998 to study music at the Hochschule fur Musik, "Mozarteum," in Salzburg, Austria.
In addition to her teaching curriculum, Amanda maintains a regular concert schedule. She is particularly interested in French piano music. She has a keen interest in two-piano repertoire and ensemble repertoire. Recent performances include the FPTA faculty recital, the Modern Composer's Festival, and a several solo recitals. She is also the pianist at McPherson Presbyterian Church in Fayetteville.
Tim & Olive Tollefson
Church Custodians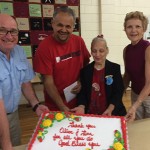 For nearly 20 years, the MacPherson facilities have been diligently and lovingly maintained by Tim and Olive. Tim is a native of Hawaii who was brought to Fayetteville, like so many, by the Army. Olive was born in Maryland but has lived in North Carolina as long as she can remember. They met here in Fayetteville and recently celebrated their 32nd wedding anniversary. They have a big extended "family of the heart" including lots of brothers, sisters, nieces, and nephews. Olive volunteers with many charities and has been recognized for her work with Special Olympics. Tim is something of a Mr. Fix-It and calls himself a "tinkerer." Olive is a cat person while Tim is a dog person—though they both agree that Kentucky Fried Chicken is their favorite restaurant. It's where Tim proposed!