Elder Biographies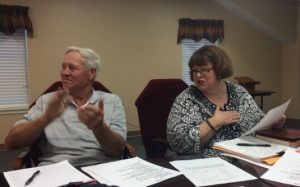 Dory Anderson (Class of 2018) (pictured far right)
Congregational Care Team
I am a wife (of Bob), a mother (of Ashley) and mother-in-law (of Max), a grandmother (of Leila), and a retired elementary school teacher. I am an "Army brat" who moved to Fayetteville 57 years ago. I graduated from Fayetteville Senior High School in 1968 (trivia fact: that was the last year the school was called by that name before it changed its name to Terry Sanford High School). I have a BA in Elementary Education from Methodist College (now University); an MA in Early Childhood Education from ASU; and an MA in Educational Supervision/Administration from ECU. I have been a member of MacPherson Church for more than 35 years and have served God and MacPherson in various ways. I have been a Deacon and was an ordained Elder who served as the Stated Clerk when I was last on the Session. I was an Advisor for the Youth Group for 23 years. I'm also a member of the Chancel Choir.
Joseph Cade (Class of 2016)
Clerk of Session, Finance Team Chair
I was raised in MacPherson and represent the fifth generation of my family at MacPherson. My wife and I met here as Youth Group members in high school and were married at MacPherson in 1995. I am serving in my fourth term on the Session. We have three daughters ages 13, 10, and 5.  We are active in the Youth Group and very much enjoy Church life at MacPherson. I have been working in various roles for Caterpillar in Sanford, NC for 15 years. I enjoy traveling with my family and playing golf.
David Carter (Class of 2016)
Christian Education Chair
I have been married to my high school sweetheart for 45 years and recently retired from the Department of Transportation. I have been a member of MacPherson Presbyterian Church since 1976. I have served on several committees as both Deacon and Elder. I have been the Sunday School Secretary/Treasurer for approximately 30 years. I am currently chairman of the Christian Education Team.
Steve Faircloth (Class of 2017)
Long Range Oversight Team
I am a lifelong resident of Fayetteville, and I joined the church in 1990. My wife Carol and I have three children (Phyllis, Jeremy, and Craig) and two grandchildren (Spencer and Dottie). I have been active in Scouting at MacPherson as Cub Scout Leader and Cubmaster. I have also served the church as a deacon, elder, Sunday School teacher, and a member of the men's group. I am now on the LRO team but have also served on Christian Education and APP.
Betty Fisher (Class of 2018)
Evangelism & Mission Team
I grew up in the Army and graduated from high school at Ft. Knox. I received a B.A. from the University of Kentucky; after graduation I moved to Atlanta. In 1977 I was married and moved to Syracuse, NY.  I recently retired from Hewlett-Packard (previously Compaq, previously Digital Equipment) after working as a software specialist and in IT as a systems manager. I was active at my church in Syracuse (Onondaga Hill Presbyterian Church) and served as a Deacon and as an Elder.  I moved to Fayetteville in 2011 and joined MacPherson Presbyterian Church the following year.  I help with music at the early service by playing the piano, am active in Presbyterian Women, have helped with Wednesday night suppers, and last year went on MacPherson's mission trip to Russia.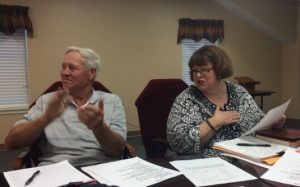 Bill Groening (Class of 2018) (pictured far left)
Admin/Personnel/Property Chair
Shortly after I retired from the military in September 1996, my wife Mary and I joined MacPherson Presbyterian Church. Raised in a Methodist family, I became a Presbyterian by marriage. After my full retirement in 2012, I became an active member of the church: participating in the annual West Virginia work camp mission trip and a member of the Evangelism and Missions team. In 2013, I was commissioned as an Elder and have led the Finance Team, served as the Autumn Bazaar Czar, taught Sunday School, served as the Commissioner for MacPherson's Cub Pack 771, and been an active member of the MacPherson Men.
Dianne Grumelot (Class of 2016)
Long Range Oversight Chair
I moved to Fayetteville 30 years ago as a military wife and have been here ever since. I'm originally from Ohio, but I've lived here longer! My four children grew up at MacPherson. Kristen and her husband and our two granddaughters live in Charlotte as well as our son, Todd. Another son, Greg, lives in Chicago and youngest son Tyler lives with us, but is a senior at UNC Pembroke. My husband Scott and I both work for Cumberland County Schools. I have been a deacon and an elder as well as moderator for Presbyterian Women. I am also the receiving treasurer of the church.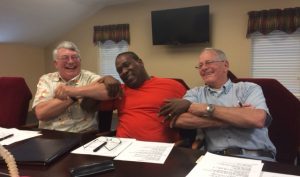 David Hesnard (Class of 2016) (pictured far left)
Evangelism & Mission Chair
I was born in Fort Collins, Colorado; raised on a cattle ranch in the Black Hills of South Dakota; graduated with a BS degree in Wildlife and Fisheries Management; and was commissioned and served for 11+ years around the world with the U.S. Army. My association with the Fayetteville area began in the fall of 1978 when I was posted to Fort Bragg. Following assignments to South Korea and Fort Riley, Kansas, I returned to Fayetteville in 1986 and have called this fair city my home since.  My wife Susan and I have been married for 20 years, have 3 children (Cindy, Paul, Diane) and 8 grandchildren (David, Jesse, April, Caleb, Kelsa, Corey, Hazel and Eugene) and claim MacPherson as our spiritual home. I have taught Sunday school classes, am a member of the MacPherson Men, and currently serve as an elder on the Session. I have led the Evangelism and Mission team since January 2014.
Jeannie Jernigan (Class of 2017)
Worship & Music Chair
I have three beautiful daughters and two handsome grandsons. Gianna Seay is married to Tai Seay, who recently joined the Air Force and is currently in basic training at Lackland Air Force Base in Texas. Jessica Jernigan and her son Robert Jacob (RJ, age 3) live with me currently. Many know RJ very well because he is such a good greeter! My youngest daughter, Katie Rogers, is married to Luke Rogers, and they have Charley (age 2). They live in Colonial Heights, Virginia, near Fort Lee with Luke's parents. My twin sister, Julie Thayer, lives here in Fayetteville. She and her husband Steve take care of me and my mother, Giovanna Myers, who also lives here in Fayetteville. It is quite a blessing to have family here in addition to church family to help me. This past year I became an elder on the Worship and Music Team. Recently, I became team chair and have some very big shoes to fill. Fortunately, I am part of a great team, which helps a great deal!
Joe McArthur (Class of 2017)
Christian Education Team
I was born in Fayetteville, NC, in 1949 to Joseph A. and Doris McArthur. I have been part of the MacPherson Church family for 66 years. Though my father has passed, my mother still worships at MacPherson and is active in the congregation. I am now an elder and have been with the choir since I was 17 years old. I have 33 years total federal service with 20 years in the United States Air Force and 13 years of Civil Service with U.S. Army Special Operations Command. I am now retired times two!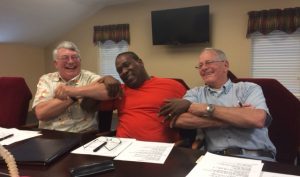 Dennis Reid (Class of 2018) (pictured middle)
Christian Education Team
I was born in North Carolina in 1961. I am married to Kyong Shin, and we have 5-year-old twins: Daniel and Emerald. I also have two daughters from a previous marriage: Angelina (age 33) and AnJuli (age 31). I have two granddaughters and a grandson. My hobbies include hiking, camping, touring National and Zoology Parks, fishing, some golf, and spending time with my family. I completed BCT and AIT in the summer of 1979 at Fort Jackson and entered the Army as a Power Generation and Wheel Vehicle Mechanic. Most recently I spent three years in Korea with the 403rd AFSB working as the Deputy Chief of Maintenance Division and TMP. My family and I returned to Fort Bragg and MacPherson in March 2015. I earned an AA in General Education and a BS in Psychology from the University of Maryland and am now pursuing an MS in Psychology. I have always been active in local churches where I was stationed, including volunteer work as a Sunday School teacher and youth group advisor. I was instrumental in the development of a prison ministry in Korea. Here at MacPherson I teach Sunday School and work in the nursery.
Roger Rose (Class of 2017)
Admin/Personnel/Property Team Member
I joined the family of God on June 11, 1976. I am a retired, 20-year Vietnam Air Force veteran. My wife Janet and I have three children and six wonderful grandchildren. Janet and I have been at MacPherson since 2007. I have served on the Admin/Personnel/Property Team and the Christian Education Team. I have gone on several short mission trips and on the Russia Mission Trip. I am a 35-year Boy Scout leader. I have served on Council and District committees and am the current Cub Master at MacPherson. My favorite saying is "service before self." My favorite Scripture verse is Ecclesiastes 3:1-10, which starts, "There is an appointed time for everything and there is a time for every event under heaven."
Jerry Shelton (Class of 2018)
Admin/Personnel/Property Team Member
I am a divorced father of two, Zachary William Deloss Shelton (21) and Rachael Grace Shelton (12). I grew up in Washington State, joined the Army after high school, and ended up here in North Carolina, where I married and raised my family in Harnett County. I served most of my time in the military at Fort Bragg as a paratrooper. I served a tour in Kuwait and also in Korea. I currently am a butcher with the Fresh Market, a career that I carried on from my grandfather as this is something I have done for the past 22 years in between my service with the military. I am also currently still working on a bachelor's degree in psychology. (I have been going to school for the past 2 and 1/2 years.)  I have been with MacPherson Church since early 2011 and became more active in 2013. I serve on the choir and volunteer with the Scouting Program, in which I am on the committee board for the troop. I have actively volunteered with Vacation Bible School at MacPherson for the past two years as the games coordinator.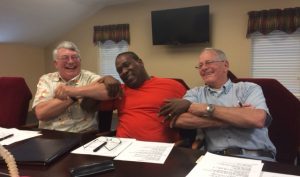 Barney Treneman (Class of 2017) (pictured far right)
Congregational Care Chair
I have been involved with MacPherson since 1986; my wife and I joined after I retired from the Army in 1990. I was called as a member of the Session following full retirement in 2007. I have participated in local, national, and world missions since 1999. I served as chair of the Evangelism and Mission Team from 2011 through 2013. I am married with two adult children.
John Wilson (Class of 2016)
Worship & Music Team
I was born in Baltimore, Maryland, but became a North Carolinian after working two summers on my aunt's tobacco farm here in the state. It was while working that farm that I met my beloved wife, Linda. I attended college at FTCC and was hired right out of college by IBM. I worked for IBM for 44 years before I retired. Linda and I joined MacPherson around 1970. Over the years I have served the church as a deacon and on the Worship & Music team. My daughter, Melissa, also resides here in Fayetteville.