Elder Biographies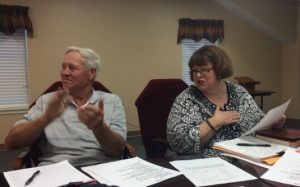 Dory  Anderson (Class of 2018) (pictured on right)
Congregational Care Team Chair
I am a wife (of Bob), a mother (of Ashley) and mother-in-law (of Max), a grandmother (of Leila), and a retired elementary school teacher. I am an "Army brat" who moved to Fayetteville 57 years ago. I graduated from Fayetteville Senior High School in 1968 (trivia fact: that was the last year the school was called by that name before it changed its name to Terry Sanford High School). I have a BA in Elementary Education from Methodist College (now University); an MA in Early Childhood Education from ASU; and an MA in Educational Supervision/Administration from ECU. I have been a member of MacPherson Church for more than 35 years and have served God and MacPherson in various ways. I have been a Deacon and was an ordained Elder who served as the Stated Clerk when I was last on the Session. I was an Advisor for the Youth Group for 23 years. I'm also a member of the Chancel Choir.
Julie Bekkering (Class of 2020)
Worship & Music Team Chair
Julie Bekkering has been a member of MacPherson Presbyterian since 2004, when she and her father moved here from Michigan to be near her daughter and family. She has previously served six years on Session. She is currently our church organist, a member of the Chancel Choir, and a member of PW Circle 4. She has recently retired and has a passion for rescuing homeless senior dogs.
Neal Bullard (Class of 2020)
Admin/Personnel/Property Team
Neal is a native of Cumberland County and has been a member of MacPherson Presbyterian Church for 55 years. He graduated from 71st High School, Mars Hill University, East Carolina University, and the University of Arizona. He was employed by Ft. Bragg Schools for 23 years and currently operates B&B Used Auto Parts. Neal has previously served as a deacon and elder at MacPherson Presbyterian Church. He is married to Angeline. They have two sons, Frank and Kurt; five grandchildren; and one great-grandchild.
Joseph Cade (Class of 2019)
Clerk of Session, Finance Team Chair
I was raised in MacPherson and represent the fifth generation of my family at MacPherson. My wife and I met here as Youth Group members in high school and were married at MacPherson in 1995. I am serving in my fourth term on the Session. We have three daughters ages 13, 10, and 5.  We are active in the Youth Group and very much enjoy Church life at MacPherson. I have been working in various roles for Caterpillar in Sanford, NC for 15 years. I enjoy traveling with my family and playing golf.
Izy Curtis (Class of 2019)
Congregational Care Team
Isabella (Izy) Noelle Curtis was born and raised in Fayetteville (though she considers Wilmington home). She is the daughter of the late John Duncan and Vernon Bain Kinlaw, and she has three brothers. Izy was christened at MacPherson, and both her parents were active members. Izy has served in the office of Deacon at Peace Presbyterian Church in Fayetteville (1987-88). This is the path, the Presbyterian tradition, which Izy chooses to follow to the best of her ability. Izy has a BS in history from Methodist College with a minor in Business Administration. She has also studied at the University of Swansea in Wales and UNC Wilmington. Her chosen profession of thirty years is cosmetologist, but she has also taught English as a Second Language for a variety of organizations: FTCC, Fort Bragg, CFCC, the Society of Friends Church, Pender Prison, and the New Hanover Juvenile Detention Center. Currently, Izy is devoting more of her time to church activities. Any past achievements as well as future work is always a blessing from the Lord, and she gives Him all the praise. She believes it would be a privilege to serve the church in any capacity the congregation sees fit.
Cristy Grady (Class of 2020)
Long Range Planning Team
I was born in Daegu, South Korea, and am an Army Brat. I moved to Fayetteville, North Carolina, in 1986 with my family via the Army. I graduated from Westover High School in 2001 and then graduated from UNCP in 2006 with a BA in History. I currently work for Cape Fear Valley's Physical Therapy Department scheduling patients.
My father is Pastor Jim and my mom is Myung Randall. I have two younger brothers, John and William, and a younger adopted sister, Jada. My husband, Justin Grady, is currently stationed at Camp Carroll in South Korea and will be home December 2017.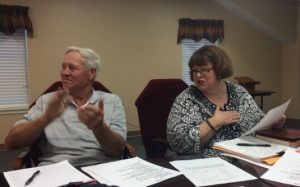 Bill Groening (Class of 2018) (pictured far left)
Admin/Personnel/Property Chair
Shortly after I retired from the military in September 1996, my wife Mary and I joined MacPherson Presbyterian Church. Raised in a Methodist family, I became a Presbyterian by marriage. After my full retirement in 2012, I became an active member of the church: participating in the annual West Virginia work camp mission trip and a member of the Evangelism and Missions team. In 2013, I was commissioned as an Elder and have led the Finance Team, served as the Autumn Bazaar Czar, taught Sunday School, served as the Commissioner for MacPherson's Cub Pack 771, and been an active member of the MacPherson Men.
Scott Grumelot (Class of 2019)
Christian Education Team Chair
I grew up in the Unadilla Presbyterian Church in Michigan. I transferred my membership to Stockbridge Presbyterian Church when I was in college when my parents moved their membership. I moved here through the Army in 1989 and met and married Dianne in 1991. I transferred my membership to MacPherson. I have served three terms on the Session prior to this nomination. I have served on the Evangelism and Mission, Worship and Music, and Christian Education Teams.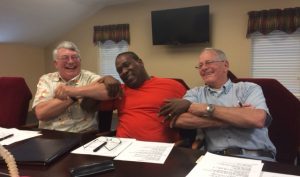 David Hesnard (Class of 2018) (pictured far left)
Evangelism & Mission Team Chair
I was born in Fort Collins, Colorado; raised on a cattle ranch in the Black Hills of South Dakota; graduated with a BS degree in Wildlife and Fisheries Management; and was commissioned and served for 11+ years around the world with the U.S. Army. My association with the Fayetteville area began in the fall of 1978 when I was posted to Fort Bragg. Following assignments to South Korea and Fort Riley, Kansas, I returned to Fayetteville in 1986 and have called this fair city my home since.  My wife Susan and I have been married for 20 years, have 3 children (Cindy, Paul, Diane) and 8 grandchildren (David, Jesse, April, Caleb, Kelsa, Corey, Hazel and Eugene) and claim MacPherson as our spiritual home. I have taught Sunday school classes, am a member of the MacPherson Men, and currently serve as an elder on the Session. I have led the Evangelism and Mission team since January 2014.
Susan Penland (Class of 2019)
Congregational Care Team
I have been a member of MacPherson for over 25 years and knew that I was "at home" from the day I first walked in the doors. It has been my honor to serve as a deacon and an elder and on several committees. I am proud to answer God's call to serve again!
Kim Perkins (Class of 2019)
Worship & Music Team
Kim Perkins is the daughter of Harold and Rosie Bunnells. Born in Charlotte and raised in Fayetteville, she lived here all her life until she married husband Tom. At that point, the Army took them several different places during Tom's 22 years of service. After he retired, they moved home to Fayetteville. Kim and Tom are parents to son Damien, 15, and they have two fur babies: Jingo and Uke. In her free time Kim enjoys traveling, reading, and spending time with family and friends. Kim graduated from FTCC in 1991 with an AA in Banking and Finance. She worked in mortgage banking for 17 years. She eventually went back to school and earned an AA in nursing from Lincoln University in Missouri. In 2011 she received her BA in nursing from Fayetteville State and she is currently a supplemental staffing nurse at Cape Fear Valley. A lifetime member of MacPherson, Kim is an ordained elder who has previously served on the Session and as a member of the Christian Education Team. She is currently a member of Circle 7.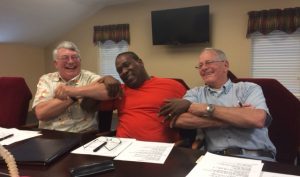 Dennis Reid (Class of 2018) (pictured middle)
Christian Education Team
I was born in North Carolina in 1961. I am married to Kyong Shin, and we have 7-year-old twins: Daniel and Emerald. I also have two daughters from a previous marriage: Angelina (age 35) and AnJuli (age 33). I have two granddaughters and a grandson. My hobbies include hiking, camping, touring National and Zoology Parks, fishing, some golf, and spending time with my family. I completed BCT and AIT in the summer of 1979 at Fort Jackson and entered the Army as a Power Generation and Wheel Vehicle Mechanic. Most recently I spent three years in Korea with the 403rd AFSB working as the Deputy Chief of Maintenance Division and TMP. My family and I returned to Fort Bragg and MacPherson in March 2015. I earned an AA in General Education and a BS in Psychology from the University of Maryland and am now pursuing an MS in Psychology. I have always been active in local churches where I was stationed, including volunteer work as a Sunday School teacher and youth group advisor. I was instrumental in the development of a prison ministry in Korea. Here at MacPherson I teach Sunday School and work in the nursery.
Awilda "Ally" Reyes (Class of 2020)
Admin/Personnel/Property Team
I am a God-loving Christian, married, and proud mother of three beautiful little girls. I am a Carolina girl, born and raised. Being half Puerto Rican and half Korean, I enjoy all aspects in everyone's different culture. I was born August 29, 1975. I'm a military brat of a father who retired 1st SGT from the Army.
I followed Pastor Randall from Hope Mills Presbyterian to MacPherson and here I became a member and made my home. I have been in the handbell choir and now I am a joyful participant of the choir, and enjoy watching my girls grow with the church.
I am the Business Office Manager at Heritage Place. I have been with the company for six years now and absolutely consider Heritage Place my extended family. I love to laugh and enjoy the laughter of others.
Buck Thrailkill (Class of 2020)
Long Range Planning Team Chair
Buck Thrailkill is a professional music instructor and a professional musician. You've probably seen him in church and at special MacPherson activities like the TLC dinner, proclaiming the Gospel with his singing and banjo. Buck retired from the Army in 1997 from the Special Operations community. In addition to performing and teaching, Buck is vice president of a custom leather company and an active member of the International Bluegrass Music Association. Buck has lived in Fayetteville/Ft. Bragg since 1982; he's been a member at MacPherson since 2008. He has been an elder in the Presbyterian Church for 21 years, including two terms on the Session at Hope Mills Presbyterian. Buck is married to Susan and they have eight children and nine grandchildren.
Kim Wanovich (Class of 2018)
Long Range Planning Team
Kim Wanovich was born and raised in Massachusetts. She is an Army wife, married to Jim and the mother of four children: Andrew, Bradley, Kevin, and Kayleigh. Her undergraduate degree in Aviation Business Administration was obtained from Embry-Riddle Aeronautical University. She also earned an Associate degree in Veterinary Medical Technology and is a registered Veterinary Technician. Currently, she is employed by Cumberland County Schools as a Teacher Assistant working with children with autism. She enjoys sewing, floating in the pool, snuggling with her two dogs, and spending time watching high school sports her boys have played over the years.