Presbyterian Women
The  
Presbyterian Women of MacPherson Presbyterian kicked off their 2016-2017 year with a Rally Night and potluck dinner on August 23. They are also beginning a wonderful Horizons study called "Who Is Jesus? What a Difference a Lens Makes." With one morning and three evening Circles, there's a place for you in PW at MacPherson! For additional information about Circle meeting times, please contact the church office!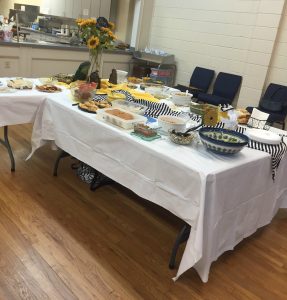 There's just a little bit of time to sign up for the PW Retreat September 23-25 at Sunset Beach. Call the church office by Friday, September 9 to add your name to the list! (Some of the pictures below are from last year's retreat!)
Presbyterian Women consists of four circles and a Coordinating Team.
Moderator: Vicki Cummings
Vice-moderator: Martha Cade
Secretary: Iris Clover
Historian: Jeannie Jernigan
Treasurer: Dianne Grumelot
All women in the church are encouraged to come to our General Meetings held on the 3rd Tuesday every other month. We support our church in the following ways: 
provide or assist in various receptions and showers for our church families
active on cooking teams, snack breakfasts, Men's Breakfast
All Daughters Banquet
provide visits and calls to our shut-ins
send Christian encouragement to college students 
support and encourage PW with annual Chili Supper and pot-luck dinners
attend PW conferences in the Presbytery
provide a annual spiritual retreat for PW and guests
sit on various church committees
We support our local and global community in the following ways:
PW pledges
Urban Ministry
Missionary Support
Operation Inasmuch
Provide delegates to PW conferences
His Little One's Ministry
Thank Offering
Birthday Offering
The Littlest Coin Ministry
While these ministries are not all inclusive, they are representative of the types of service we continue do to love our church and neighbors in Christ' name.